So you have been thinking about a winter wedding in Ireland? There is a very low chance of snow but the prospect of warm drinks at the reception by the roaring fire (and possibly Christmas tree) seems to be a great option. From my side of view winter weddings are very special, specially those ones around Christmas season. Magical, cosy and very festive. Full of holiday-themed wedding decorations. With a bit of luck you might even get stunning snowy wedding photos.
If you're considering a winter wedding, I've prepared something just for you – handful of my top tips from many of different winter weddings I've photographed so far. Hopefully that'll make your planning easier and you will fall in love with this beautiful time of year even more.
1. Keep yourself warm
A winter wedding doesn't mean you're limited to indoor photos only. While it might take careful planning it's still very much possible to create beautiful photographs outside.
If it's not snowing I can tell you – it will still be really cold, so be prepared 😉
Bring cover-ups for yourself and your bridesmaids if you will be taking photographs outside.
There are many different things you can bring to keep you warm and still look amazing.
Capes were one of the biggest trends of previous years, below I will list you some more accessories you can use:
Faux Fur Stole
Chic Shrug
White Tuxedo-Style Jacket
Cool Leather Jacket
Embroidered Denim Jacket
For bridesmaids you can consider these:
Consider a warm drinks during reception – your guests will be delighted to warm up with warmed apple cider or aromatic mulled wine.
For more ideas on keeping your guests super comfortable during your Irish winter wedding, you must take a look at this article, from Wedding Ideas Magazine.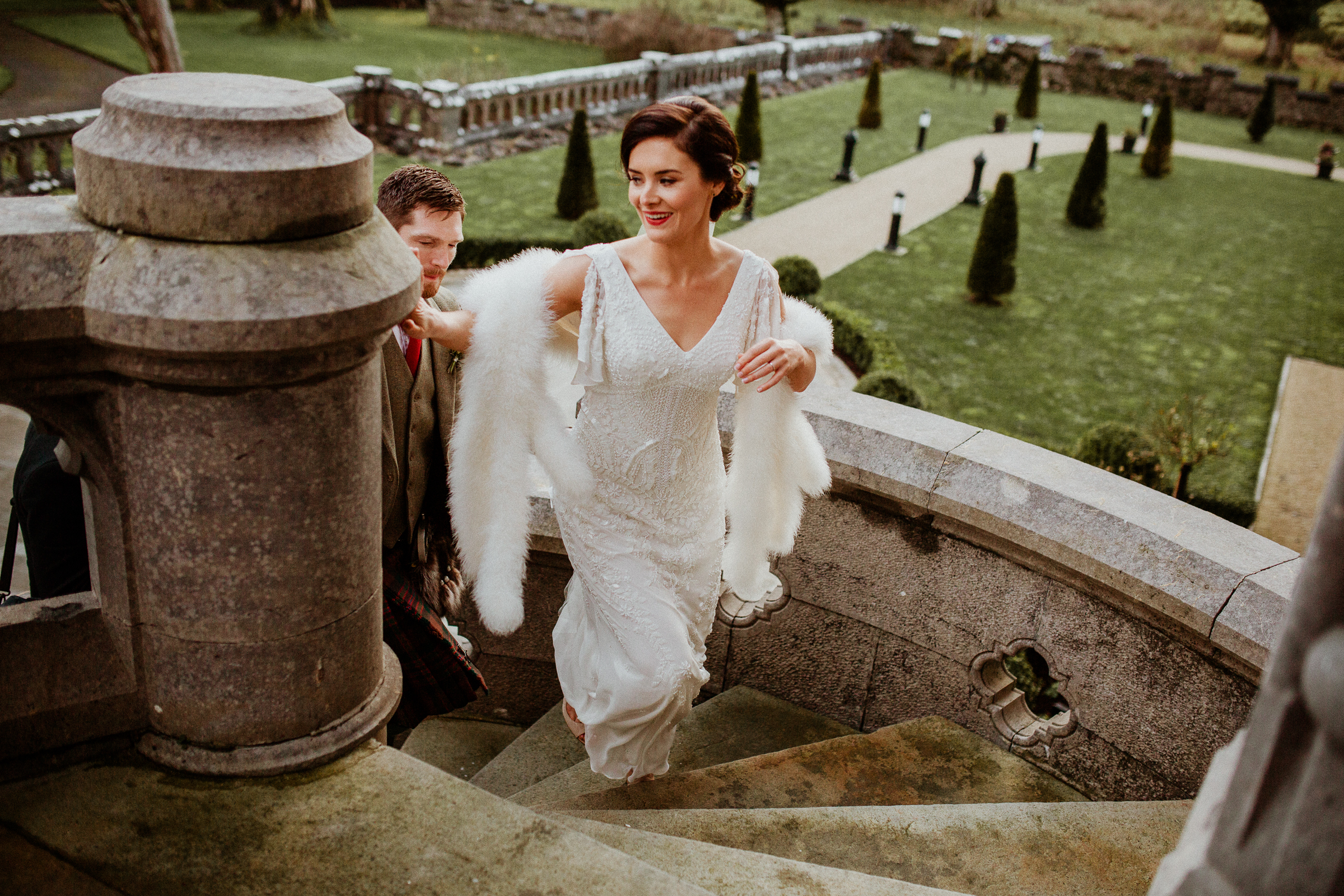 2. Consider Location
Most locations and vendors book up quickly during the summer months and come with a hefty price tag.
When you plan to have your wedding during winter times, because the winter months aren't as busy as others you might get more venue dates and better rates.
It's very important to also list some alerts… When you plan your locations for the church and venue you must factor in how hard it will be for people to get to due to the difficult road conditions.
Less travelling is better and it can save you a lot of time and frustration in case it backfires. You don't want your venue to be miles away from the church, in winter times accidents are more likely to happen and the last thing you want is commotion.
Bad weather means bad traffic, so give yourself and your guests extra time to travel to your ceremony.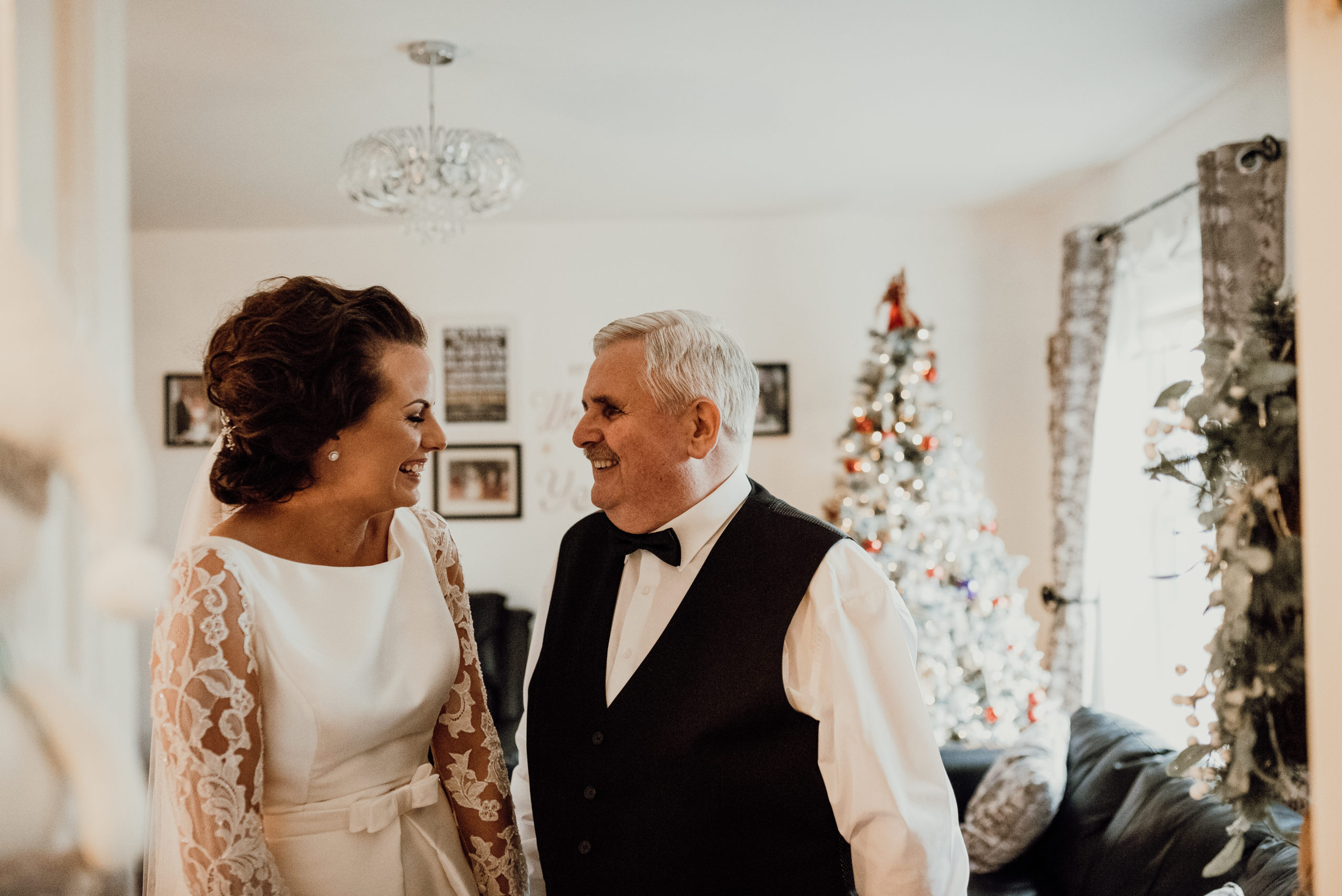 3. Plan Your Time Wisely
The day is too short to have your wedding ceremony at 3-4 pm as it'll be already night time.
It gets dark much earlier in the winter so if you want any daylight photos you must plan your timings wisely.
This is a good moment to speak with your photographer as he/she will know/have a perfect schedule to produce magical photographs during winter.
Do you consider to visit your favorite Pub between the church and the venue? With a winter wedding, I always say it's bad idea as the day is just too short for that.
Usually during winter weddings is not odd to see the couple take many photos before their ceremony so that they're able to catch the sunlight and possibly sunsets in their photos.
If your Ceremony is planned for late afternoon (for example at 3pm), consider having a First Look around 1 pm. That will allow you to get a nice wedding portraits in a day light. If this is something that you would like to do, you must check my First Look Photography Tips.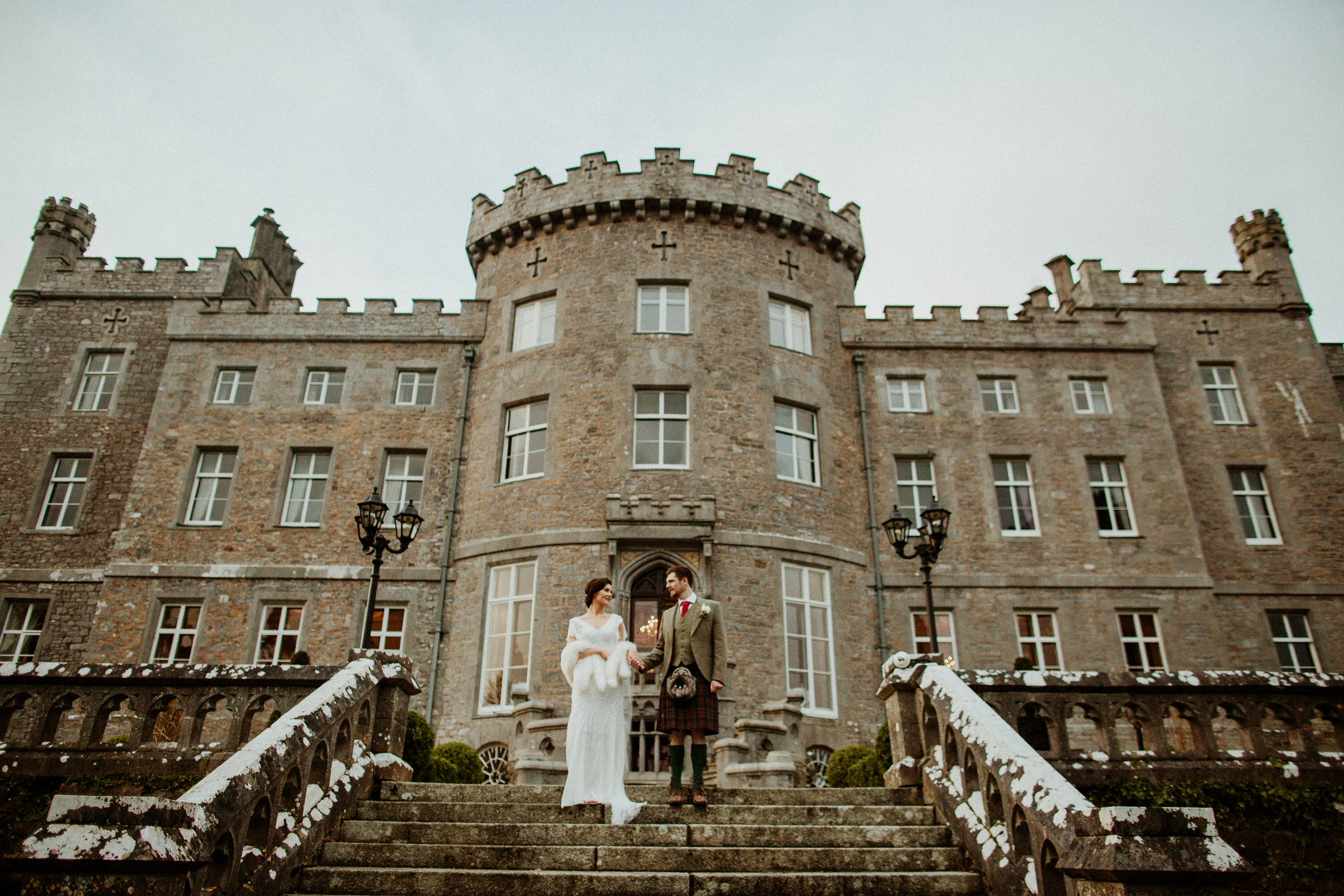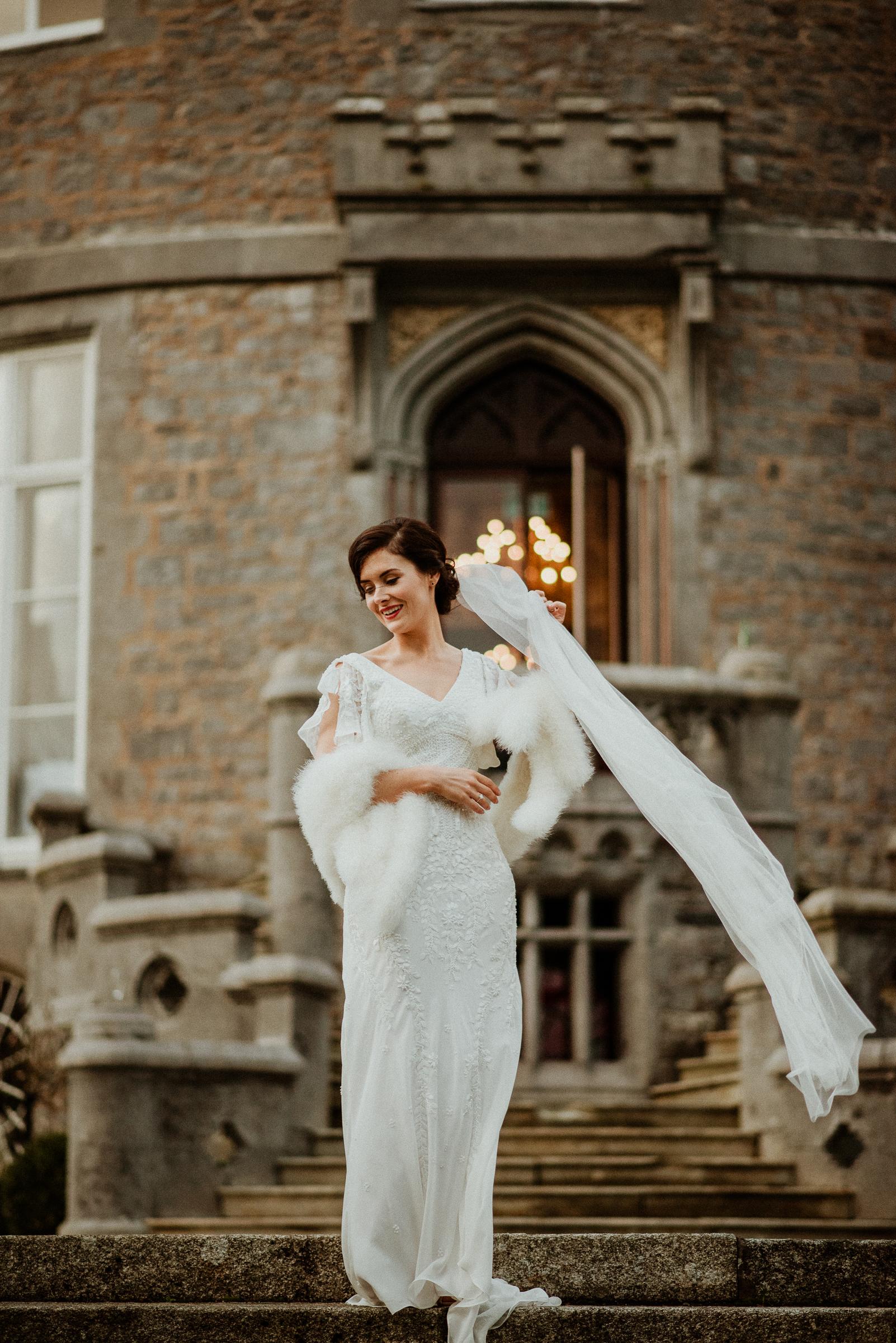 4. Pick a Professional Photographer
You need to make sure that your photographer is experienced in dealing with winter conditions and can cope with the lack of lighting during the day.
Winter wedding photography is very challenging for any wedding photographer so if you book a photographer who does not have much experience or adequate equipment you might end with very dark, blurry photos.
This is why it's so important that the right decision is made on your photographer, it can be the make it or break it off the day.
I go over in huge details why and how to choose the perfect photographer for your wedding day here.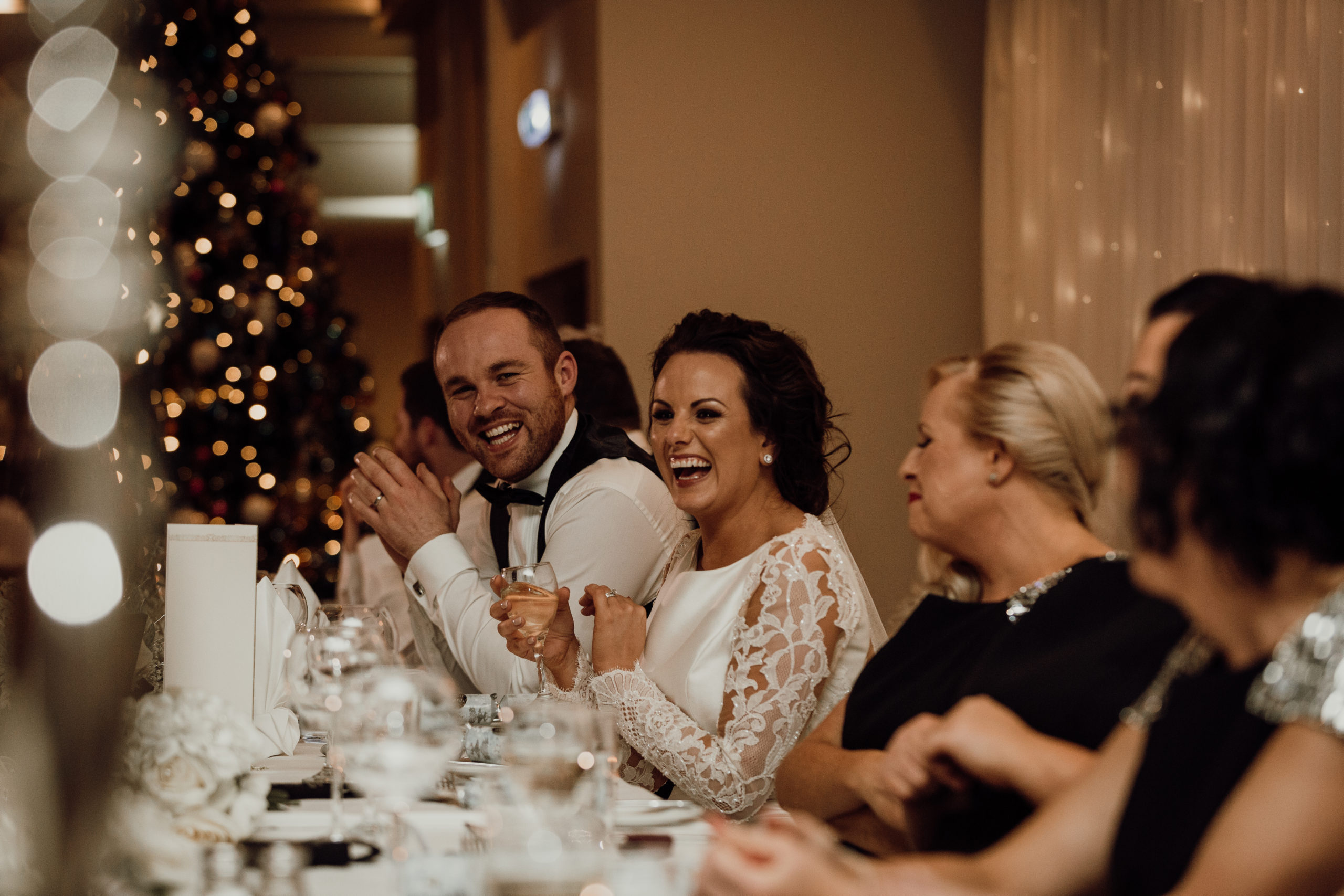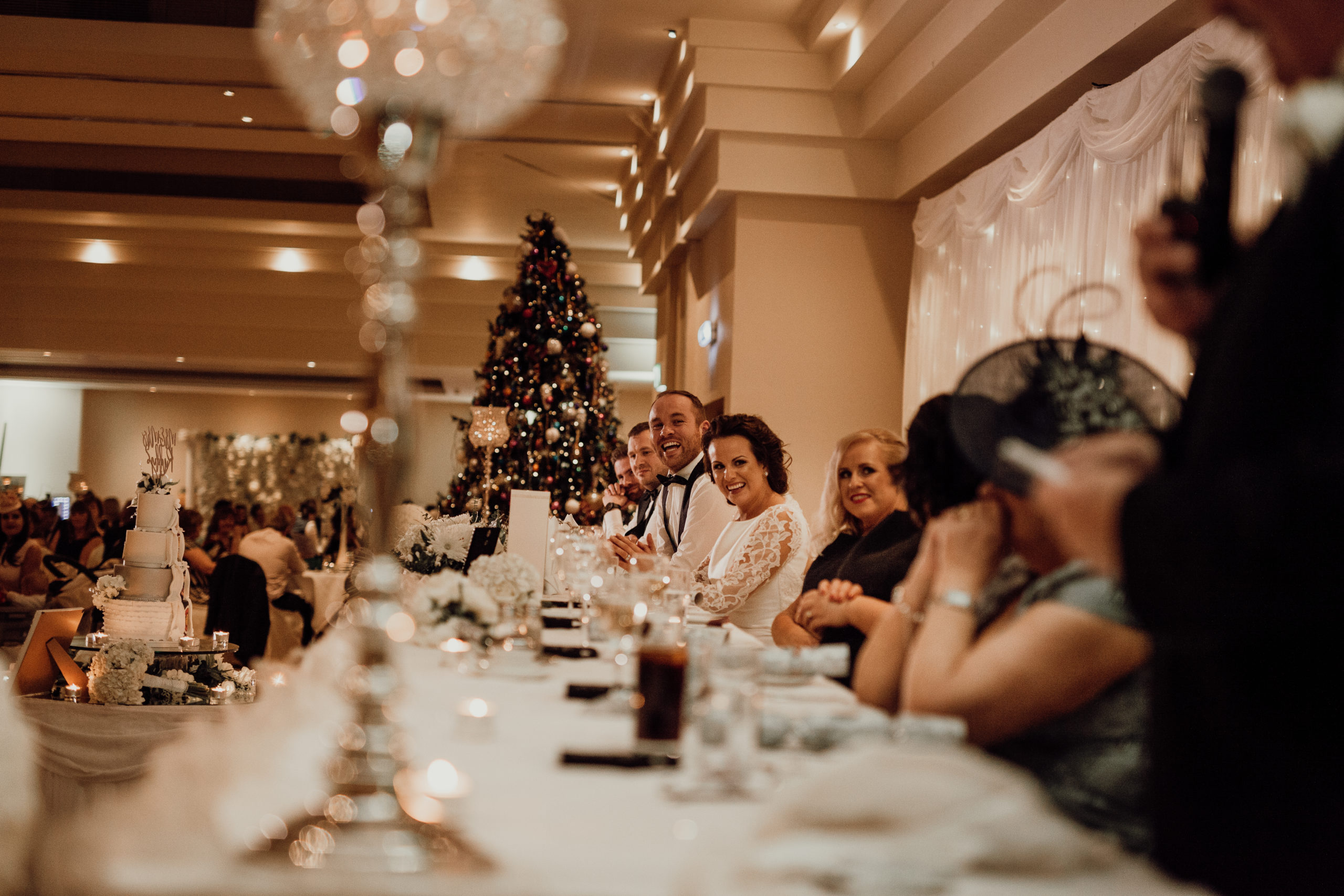 5. Umbrellas & Wellies
Nice umbrellas during wet weather are always a good idea – at least for you and your bridal party. They might became a great accessorizes for outdoor wedding photographs + they will keep you dry and your hair beautiful;-) White or black, simple ones will do the job but if you are looking for some more interesting options, you must check out: Where to find: Bridal Umbrellas & Parasols in Ireland by One Fab Day.
What's more – You don't have to ruin your heels to get nice portraits outsite! Cool and funky or classic wellies can look super cool even during the most elegant wedding day. Where to find them? Wedding Wellies for the Prepared Bride article.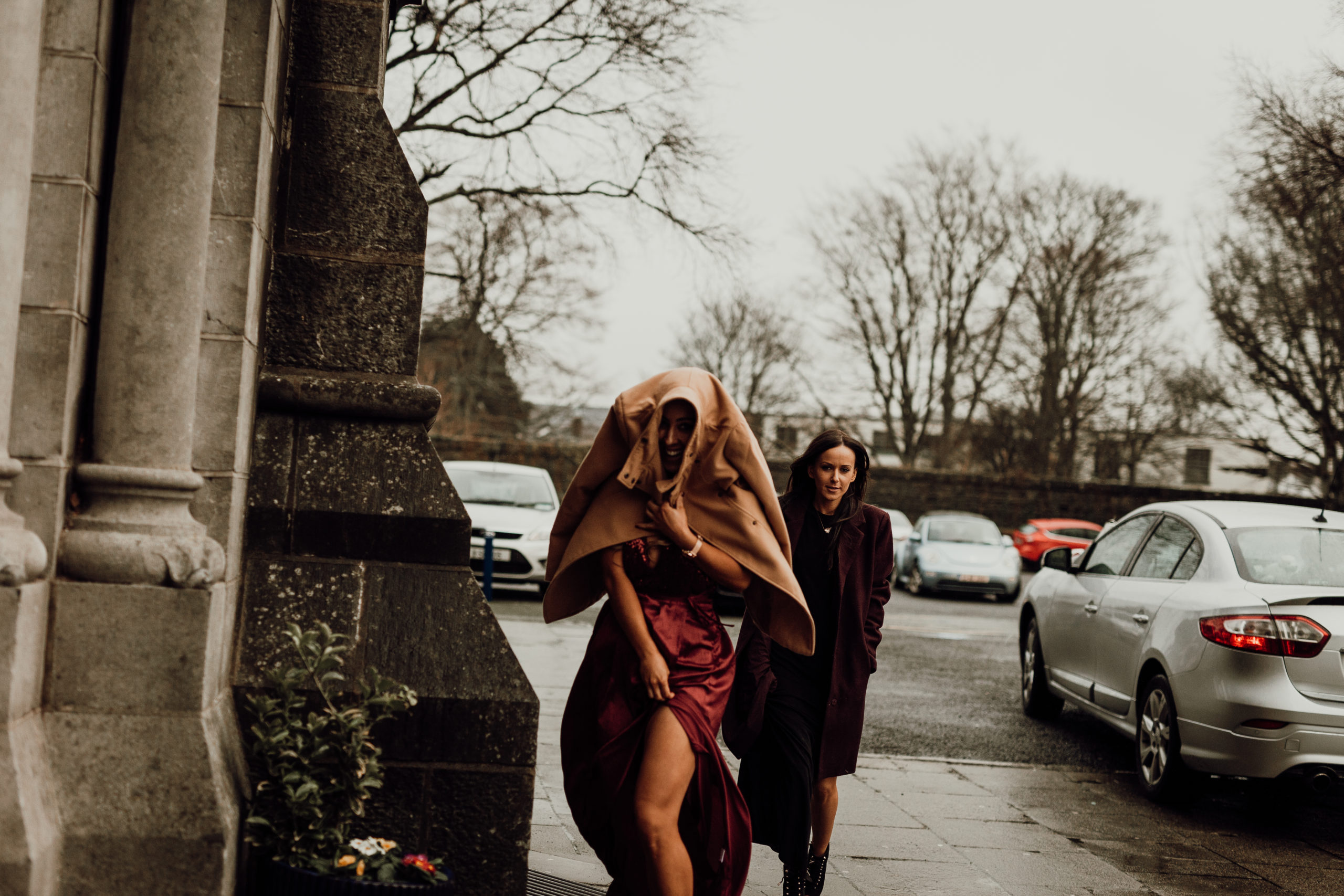 6. Be Fast and efficient
Try to be as fast as possible when greeting guests after the ceremony as it can take up so much of your time.
If you have 200 guests and you spend ONLY 15 seconds to greet each one it can take up to 50 MINUTES…
Spending 50 minutes outside the church in the cold, windy and possibly snowing weather can be a big mistake.
Alternatively, if it's very cold outside, you can ask your priest to announce at the end of the Mass that the Bride and Groom will greet guests in the hotel because of bad weather.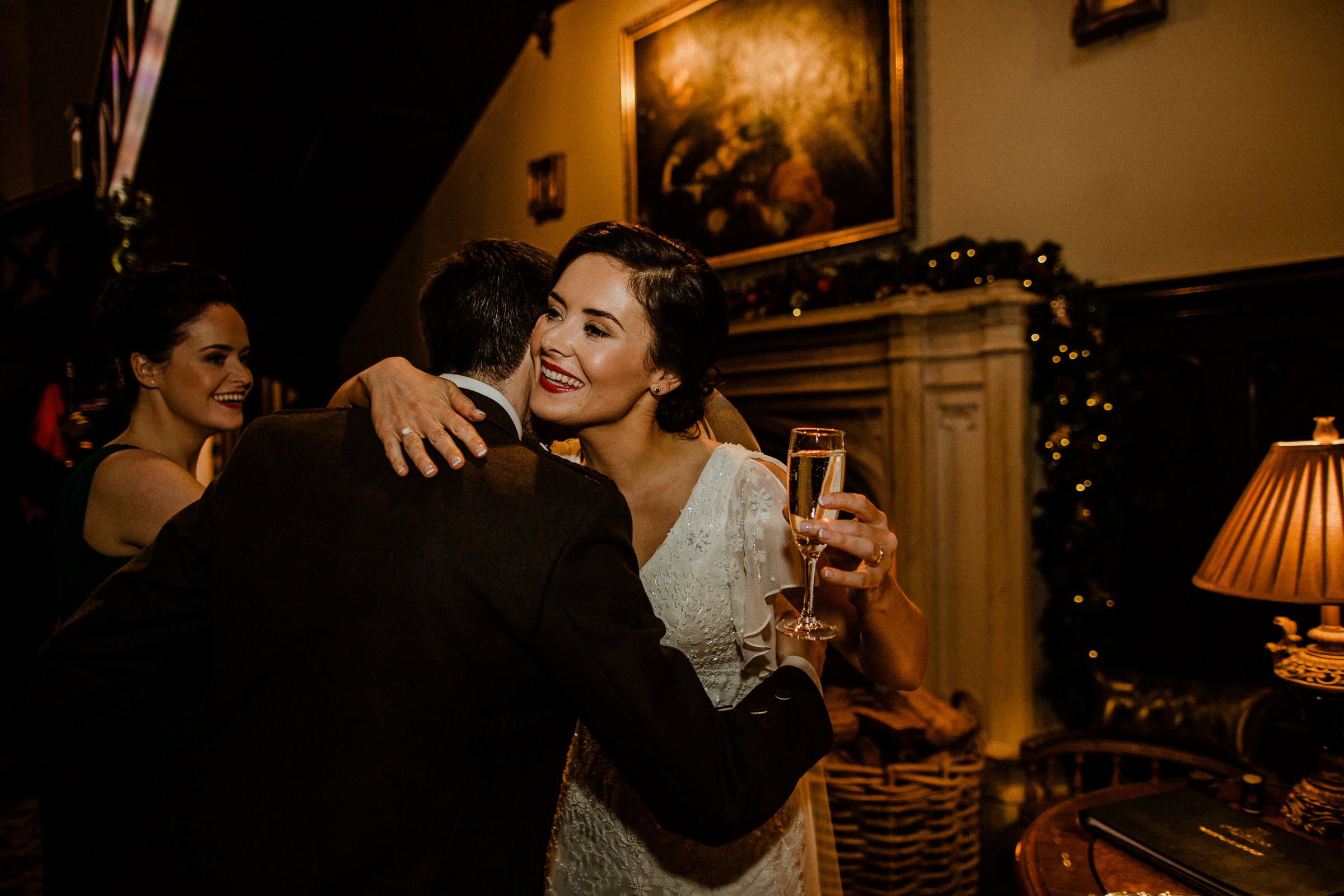 7. Plan Your Family Photos
It's a cold day so keep the list of photos needed as short as possible so that your family are not forced to stand and wait outside in the cold.
Taking your family photos quickly and efficiently will mean that there is less of a chance that your family will start going missing due to the uncomfortable weather conditions.
Just like with any other wedding, you want to be prepared with a photo list and have your bridesmaids and groomsmen up to date and ready.
I show you how to create your family photograph list here.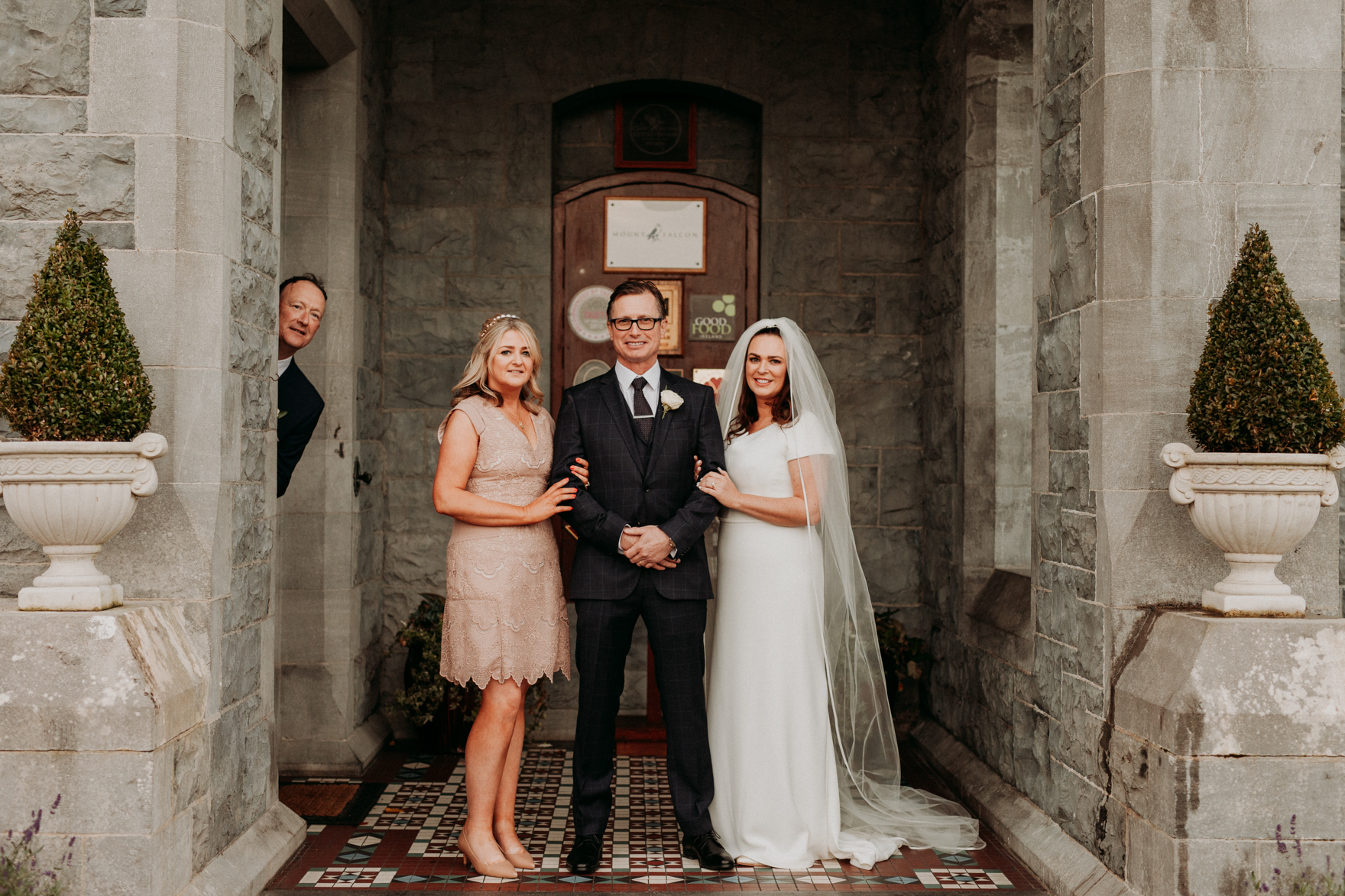 8. Organize Place for Coats
Your guests will want a safe place to store their belongings throughout your wedding day.
Offering a coat check at your ceremony and reception spaces is an important detail that shouldn't be overlooked.
Make sure someone is in charge of taking coats at your reception and making sure they're kept safe.
9. Remember That it's Better to be Cold than Hot
Some people seriously don't deal well in the heat.
It makes them irritated, cranky, and not to mention, a sweaty mess.
However, it's important that you also make sure that your guests are nice and warm.
I've been to multiple different weddings where the couple would invest in accessories for all the guests in case one got cold, for example: blankets, shawls, scarves and hand warmers for the guests. These can be exposed in decorative way or be hung on the backs of chairs to create cosy atmosphere.
You can always add layers to combat the cold but in the hotter months, you can't exactly take much off…
10. Create the Atmosphere
During winter times its the most perfect time to make the most out of the situation.
I've seen the most magical venues, ceremonies and photographs being made during winter weddings.
All the different decorations and approaches to the design and theme you can choose from.
Be sure to embrace the season, you can incorporate some things:
Candles
Sparklers
Fairy lights
Lanterns
Mistletoes
Mulled Wine
Christmas decors?
Some of these things will add a festive touch for a pre-Christmas wedding and make the occasion even more special.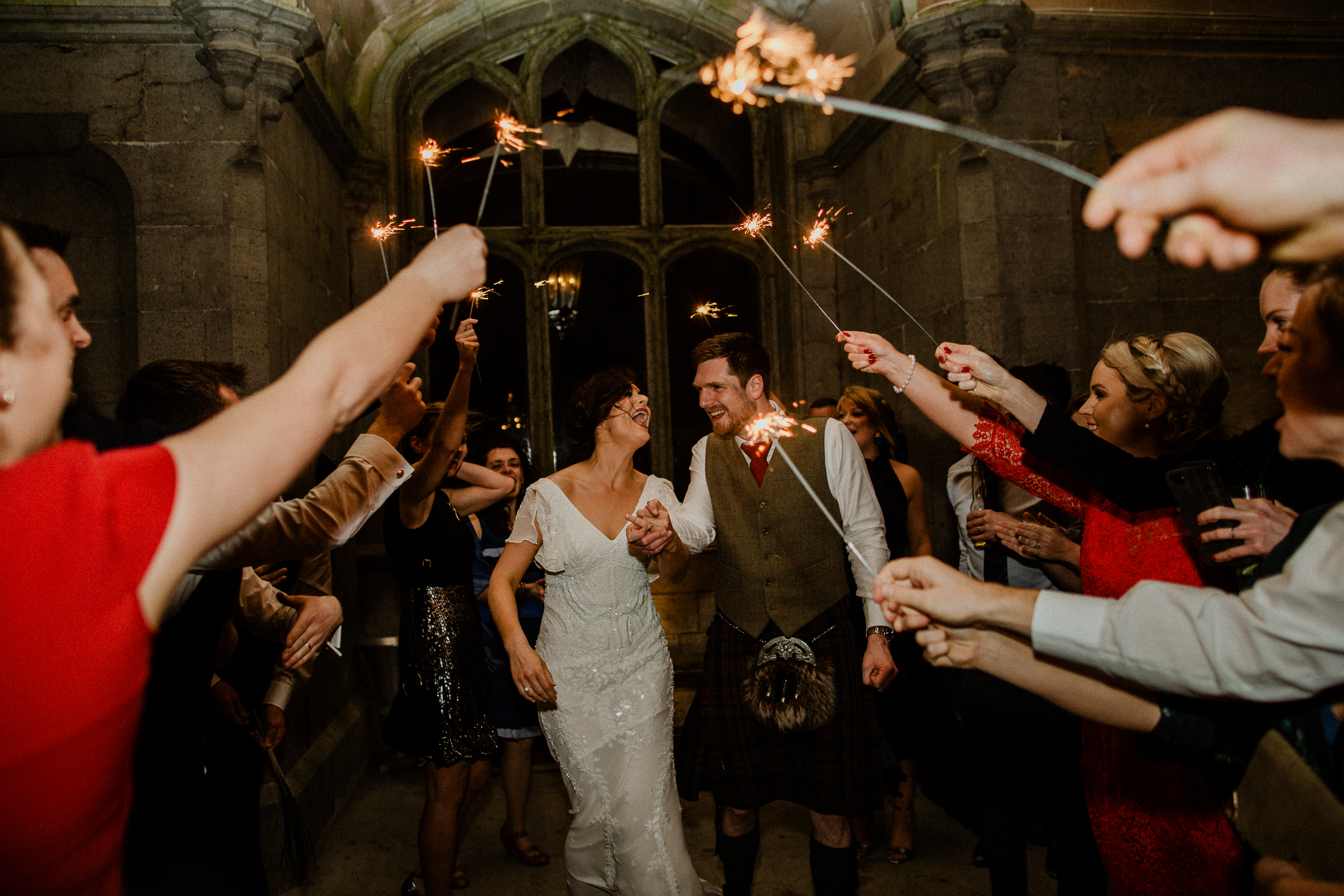 As you can probably already see, I'm very passionate about winter weddings. I hope my tips and ideas helped you in planning your winter wedding in Ireland! For even more inspirations and ideas, simply check the set of articles on Hitched as they made a great job on it!
Be sure to check out the rest of my Bride Guide for more handy informations:
Planning a Destination Wedding in Ireland or Elopement in Ireland? Please take a look at the links below:
Enjoy!