Are you the couple looking for a special wedding experience without massive costs and huge party? Have you ever considered having a small, intimate wedding and wondered the reasons to elope? Every year more couples learn that eloping speaks more to them than the big traditional wedding. In this article, I will take my time to give you some more informations about eloping in Ireland.
But Hey, what exactly is an Elopement?
The simplest definition of an elopement is a wedding without guests or with just a small number of guests, usually not more then 25. This could be arranged anywhere from a typical wedding venue to almost anywhere outdoor. Elopement gives you a freedom to celebrate the biggest moments of your lives by dedicating the day doing exactly what you want to do. You don't have to force yourself to run through through typical wedding schedule when that isn't your personality. Instead of that, you can dedicate this day to each other and focus on things that you love the most.
Benefits of Eloping:
less stress
less urgency
less expanses
more intimacy
possibility of combining the wedding trip and honeymoon
Elopement in Ireland
If you are looking for a perfect place to elope, Ireland has so much to offer. No matter what season it is and whether you are planning an outdoor or indoor ceremony. This country has so much beautiful places to show. With its dramatic coastlines, ancient castles, rich history & the friendliest people it makes for a truly fairy tale setting. You can easily get married in a beautiful, old castle or in a Gothic-style chapel, go to epic cliff tops for your Bride & Groom session, then having your first drink as a newlyweds in an real Irish pub and surely try the local food too! I believe that Ireland has special locations that can suit to every couple. With so much to explore, your Elopement would be a great possibility of combining the wedding trip and your honeymoon.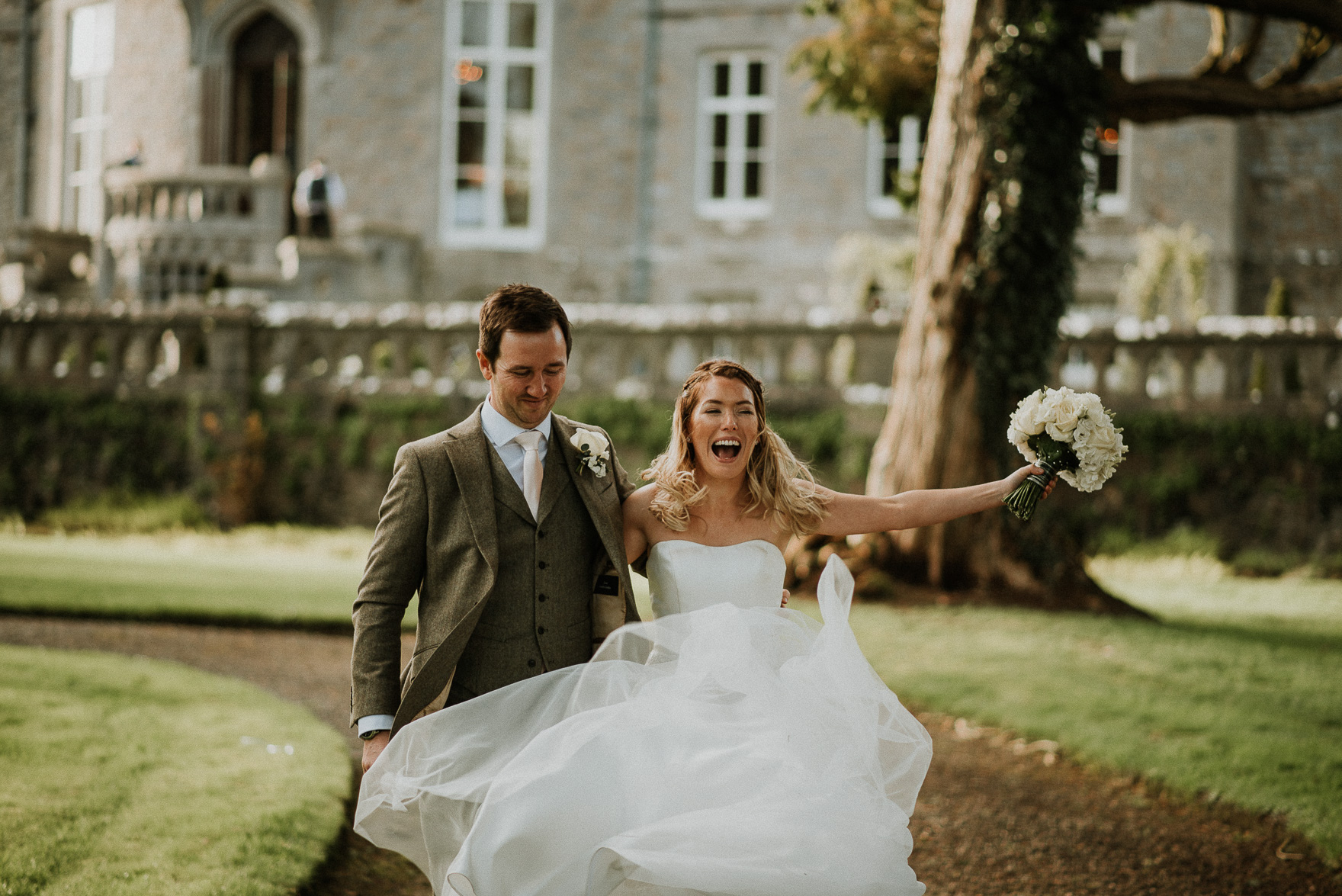 Top Tips!
Check the current Law. Before we get too excited, lets not forget about the legality;-) If you plan to get married in The Republic of Ireland, you will need to find a registered soleminister or Humanist Association of Ireland accredited celebrant. You will also need to supply notice of your Marriage at least 3 months before your elopement and apply for a marriage Visa. What's more – your ceremony will need to take place on a location with a postal address, or at an identifiable landmark, that cannot be a private property. You will need to have two persons as witnesses, who are at least 18 years old. Funny fact is that your photographer(s) can act as your witness(es) if you are planning to elope without guests. Here are two celebrants that I would highly recommend:
Set your budget. Even though eloping isn't as much expensive as a traditional wedding, you still need to plan how much you can spent. Let's get started on what can make up your elopement budget: perfect dress and suit, hair and makeup, decorations/flowers, photography/videography, traveling/accommodation fee and food/drink. After recognizing each component, I advise that you re-organize the list according to your priority and needs. Be sure to sit down with your fiancee and make a good financial plan. It's obvious that eloping it's a great money saver but you still want to have a day that you will be happy to look back on in future. Your wedding dress, photographer and flowers/decorations are some of the costly things, even if it's done in non traditional way. Don't make it less special just because it's an intimate wedding.
Find your Vendors in advance. Consider hire a Planner, Photographer, and Videographer. This is especially important for elopements as having beautiful photographs/video to show family and friends can make them feel a part of the day. Ask vendors for special pricing as most of them offer special rates for elopements. Remember that there is a lot of freedom when you planning your celebration. Depending on where you have decided to hold your ceremony, you can still get your hair and makeup professionally done and arrange a beautifully styled table setting for dinner.

Pick your dream location but have a Plan B. Typically, elopements are done outdoor in a gorgeous settings but Irish weather can be very tricky. The best months for an outdoor ceremony tend to be April/May/June, while autumn and winter can be very wet and stormy. Many venues offer indoor and outdoor ceremony locations so in case of bad weather, you could easily move your ceremony to inside.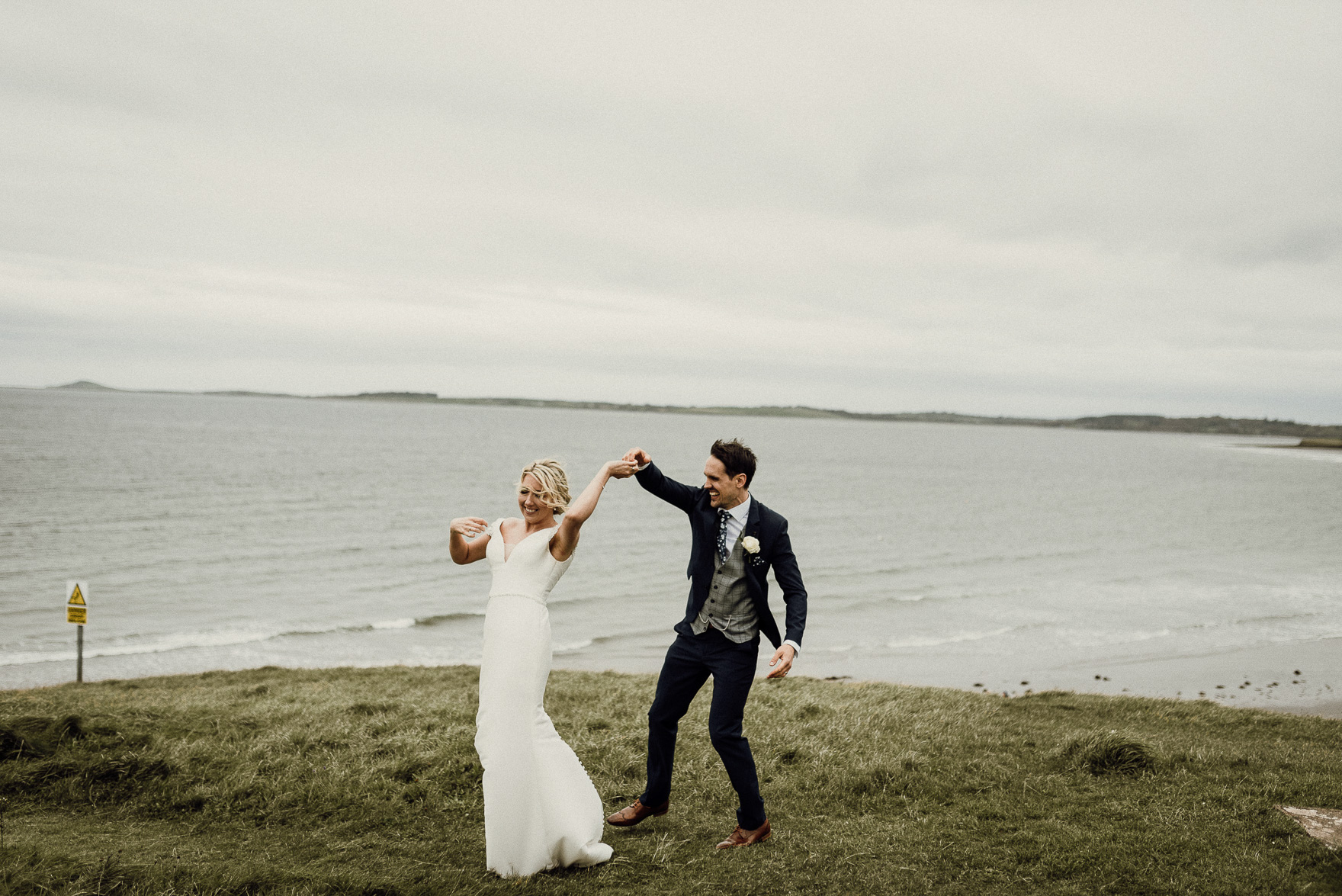 To make this step easier, I created for you a list of best locations for Eloping in Ireland:
OUTDOOR
The Cliffs of Moher, Co. Clare, ROI
Killarney National Park, Co. Kerry, ROI
The Dingle Peninsula, Co. Kerry, ROI
Slea Head near Dingle, Co. Kerry, ROI
The Howth Cliffs, Co. Dublin, ROI
The Slieve League Cliffs, Co. Donegal, ROI
The Dark Hedges, Co. Antrim, NI
The Giants Causeway, Co. Antrim, NI
Dunluce Castle, Co. Antrim, NI
AND INDOOR
Markree Castle

, Exclusive Castle, Co. Sligo, ROI

Temple House

, Private Manor House, Co. Sligo, ROI

Coopershill

, Intimate Country House, Co. Sligo, ROI

Ashford Castle

, Co. Mayo ROI

Belleek Castle

, Gothic Castle Hotel, Co. Mayo ROI

Cloghan Castle

, Co. Galway ROI

Ballynahinch Castle

, Co. Galway, ROI

Vaunghan's

, Traditional Irish Pub, Co. Clare ROI

Dromoland Castle

, Co. Clare, ROI

Sheedy's Hotel & Resort

, Country House Hotel, Co. Clare, ROI

Palmerstown House Estate

, Manor House near Dublin, Co. Kildare, ROI

Rathsallagh Country House

, Romantic Country House, Co. Wiclow ROI

Powerscourt Hotel

, 5-star Hotel near Dublin, Co. Wiclow ROI

Powerscourt Estate

,

House & Gardens

,

Manor House, Co. Wiclow ROI

Luttrellstown Castle Resort

, Castle for Exclusive Hire, Dublin, ROI

Bellinter House Hotel

, Luxury Wedding Manor, Co. Meath ROI

St Oliver Plunkett's Church

, Church Ruin, Co.Meath, ROI

Hilton Park

, Historic Country House, Co. Monaghan, ROI

Wilton Castle

, Exclusive Castle, Co. Wexford ROI

Waterford Castle Resort

, Luxury Castle, Co. Waterford ROI

Lissanoure Castle

, Private Castle Estate, Co. Antrim NI

Cahernane House Hotel

, Lakeside Manor House, Co. Killarney ROI

Old Court Chapel

, Chapel & Marquee, Co. Down, NI

Castle Ward

, Co. Down NI

Orange Tree House

, Co. Down NI

Drenagh Country Estate

, Wedding Mansion, Co. Londonderry NI
Make a Checklist. It's very handy and will help you to ensure that you have everything organized. Plan the timing through the day, book your tickets and venue, as well as any wedding vendors and most importantly your wedding officiant at least three months in advance. The chances of everyone and the venue being available without pre-booking are extremely small.
Basic Elopement Checklist:
Pick a location + date
Get the legal part done + book a celebrant or registered soleminister
Book a photographer + other vendors (florist, makeup artist etc.)
Figure out your witnesses
Book your travel + accomodation
Buy dress / suit / rings
Book dinner plans
So, I hope the tips and the location ideas offer you some help in your stress-free planning. Once planned, it is required for the couple to come forward with their elopement announcement for family and friends. It can either be done by announcing and then immediately eloping to your adventure filled wedding, or can be kept in a secret until the special day.
Regardless of what type of wedding you choose – large traditional or small elopement – take the time to enjoy the process. The ways to make your wedding day unique to you are endless and there are no rights or wrongs. Check out my Stress-Free Wedding Guide and How to Look Amazing at Your Wedding Photos to get some handy advices. Finally, enjoy, smile for the camera and remember to make memories which will last a lifetime.